Business owners everywhere are consistently seeking ways to spread their brand to potential clientele. In an ever-changing world of marketing, promotional products consistently prove themselves to be an effective, cost-efficient solution for businesses.
Here at eLead Promo, we offer the custom promotional products and company apparel that your company needs to soar. With a full-service team of designers, support specialists, account managers, and more, we will be by your side every step of the journey. Take a look at five benefits of using custom promotional products below, then contact our team to learn more about the ways we can help you elevate your brand.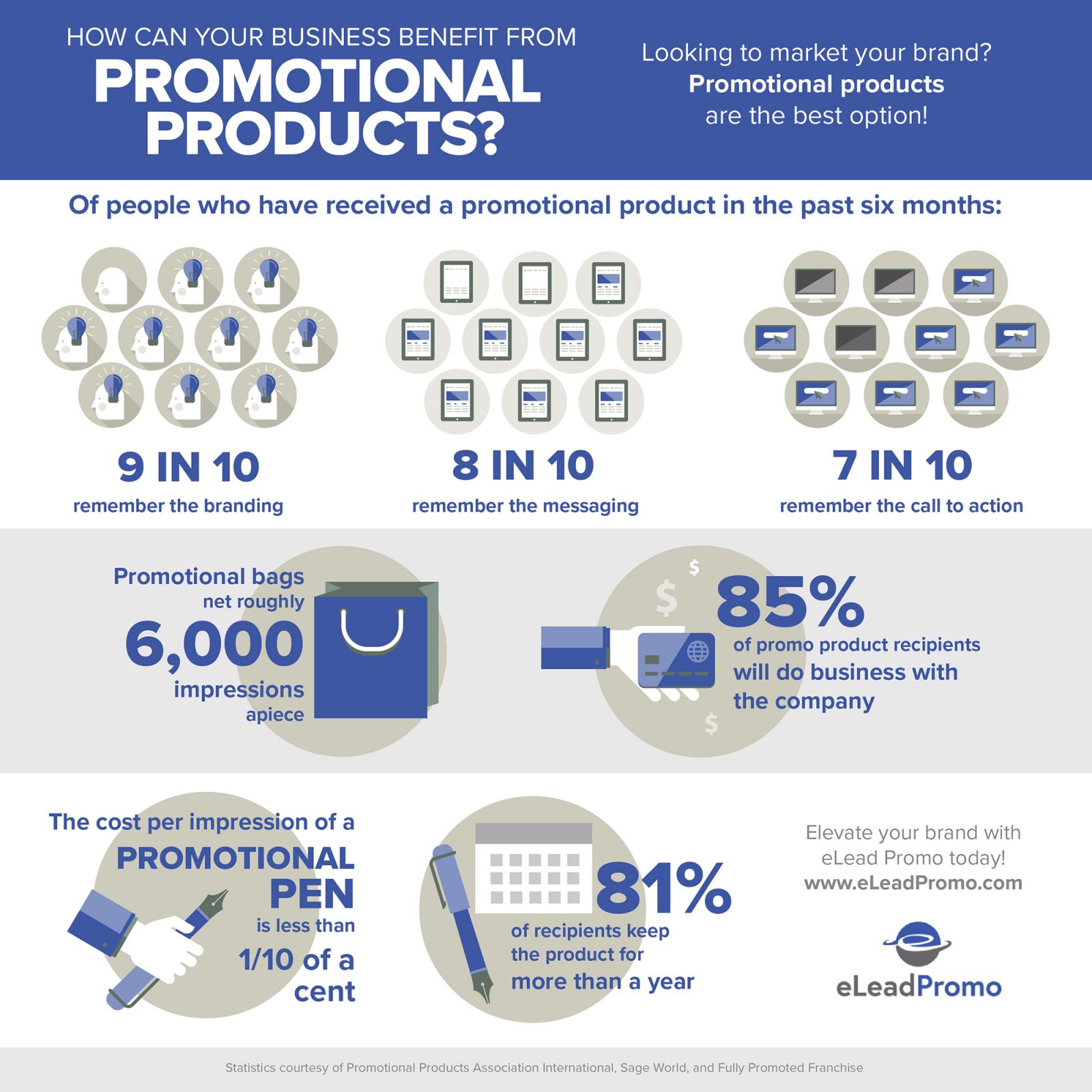 Brand Consistency
Creating a consistent brand that your customers recognize is imperative to improving your success, and the best way to do that is through promotional products. According to a study performed by Promotional Products Association International (PPAI), nine in 10 people who have received a promotional product can recall the branding six months later. Clearly, when customers receive a branded product, that first impression is likely to stick with them. Make sure to promote a consistent brand through custom promotional products from eLead Promo.
Brand Exposure
Think of your drive to work this morning or the T.V. show you watched last night. You were likely exposed to dozens of advertisements without even realizing it, so why don't you remember them? The answer is twofold — these advertisements are often uninteresting, and, more importantly, you are exposed to them for just seconds at a time before they disappear.
Promotional products, on the other hand, place your company in front of someone for prolonged and repeated periods of time. People use your company-branded pens, wear shirts with your logo on them, and bring those custom coffee mugs to work with them. Promo products are far more useful in prolonging the exposure of your brand.
Customer Loyalty
People like free things. You don't say. Promotional products created with care and quality are sure to give customers a sparkling first impression of your business. When they are consistently exposed to these products that are useful to their everyday life, they are more likely to bring their business back to you in the future. In fact, 82% of people who receive a promotional product instantly have a more favorable impression of the brand, per PPAI. Invest in your customers with promotional gifts and see the difference it can make in the long run.
Cost-Effective
Giving away free products hardly seems like a cost-effective solution, right? But when you consider the alternatives — large-scale advertising campaigns, thousand-dollar marketing strategies — promotional products really begin to show their value. For a fraction of the cost, you can put your brand in front of customers, and make them happy while doing it!
Lasting Impression
You can mute an advertisement on T.V. or skip over pages of magazines, but when a custom promotional product is in front of someone, ignoring it is far more difficult. That's because these products actually benefit potential customers rather than pester them. According to PPAI, 81% of people who are given a promotional product keep it for more than one year. The longer someone is in contact with your brand, the better their chances are of giving you their business.
Custom promotional products are an intriguing, cost-effective solution for company branding. At eLead Promo, we have the team of professionals to help you receive the best results through promotional products. Experience the difference eLead Promo can make today!