Top 5 Promotional Products for Travel
If you're considering using promotional products for your business, travel items are a great place to start. Not only are they likely to be used frequently, they will also be seen by more people in the airport, in different states, and during many activities. This repeated exposure boosts your business' presence without you doing anything!
Here at eLead Promo, we are so excited to help you create the customized promotional products that can help your business thrive. We specialize in creating leading promotional products for large businesses throughout the nation and can't wait to partner with you! Keep reading to learn more about five of the most effective promotional products for travel, then reach out to the eLead Promo team to begin customizing your items today.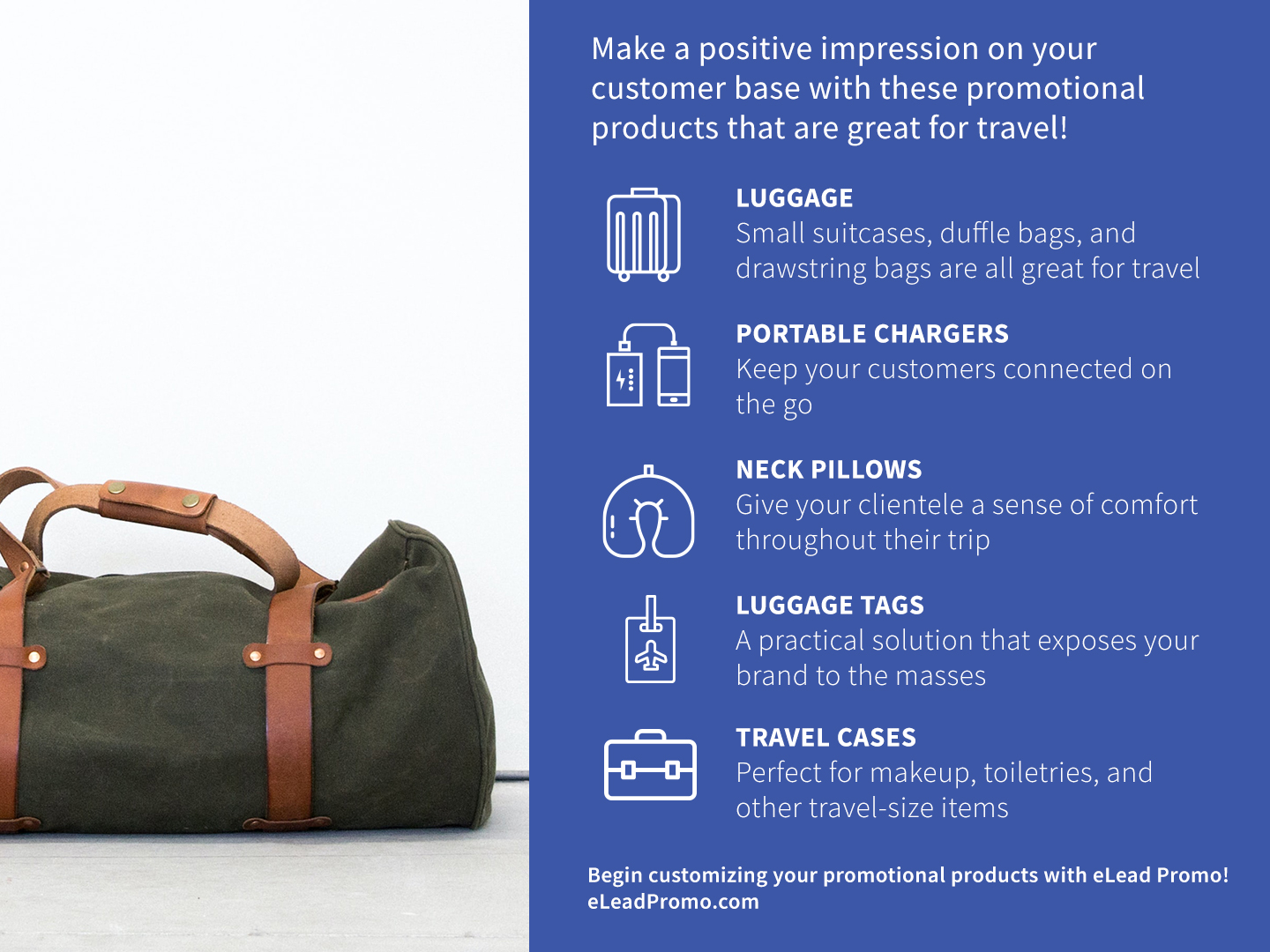 Small Suitcases
Frequent travelers typically like to pack light to limit the kerfuffle of travel. Take advantage of that by gifting some of your customers promotional suitcases that show off your brand. Not only can this build massive amounts of trust between you and your clientele, it can also expose your brand to states and locations that may have never heard of it! If you're looking for a more affordable promotional product that still benefits travelers, drawstring bags are a great alternative.
Portable Chargers
From those away for business to large families taking a vacation, virtually every traveler relies on technology of some sort during their voyage. Phones, tablets, computers — you name it, and you're likely to see it in use at the airport. With their frequent use comes the need for frequent charging, and a customized portable charger with your brand on it is the perfect solution! Your clientele is likely to use these chargers frequently, both satisfying their needs while exposing your brand to countless other people.
Neck Pillows
Anyone who has ever tried to doze off on a plane knows just how big of an inconvenience it can be. You can't seem to find the right spot to hold your head, and even if you do manage to catch some shut-eye, you'll likely wake up with an unshakable crick in your neck. Neck pillows are a great solution and one of the best customized promotional products for travel. Give your client base a sense of comfort every time they see your brand!
Luggage Tags
Remind customers of your business with branded bag tags that easily help them indicate their luggage while showing off your brand at the same time. These can be as simple as your logo on one side with a place for their information on the other, or they can be more creative and include slogans and calls-to-action. Either way, showcasing your brand on luggage throughout the nation allows more people to become interested in what you're all about.
Travel Cases
When it comes to toiletries and travel, finding an inclusive solution can be difficult. Do you throw things in a plastic bag and hope for the best? Or do you wait until your destination to purchase new goods? Travel cases remove the dilemma by offering a safe, durable way to transport travel-size items. From makeup to toothpaste and so much more, branded travel cases are one of the best ways to make a favorable impression on your customers.
Here at eLead Promo, we know the power that custom promotional products have and believe that every business can benefit from them. If you're ready to experience the positive impacts of custom promotional products of any kind, our team is here to help you begin your customization. Reach out to us today to get started!