Custom promotional products are an incredibly useful tool to increase brand exposure and customer loyalty — that much we know. But when it comes down to which promotional products actually work the best, things begin to get a little murky.
Here at eLead Promo, we are proud to offer large businesses the custom promotional products they need to elevate their brand, and that all begins with ensuring you are using the right kinds of promotional products. The purpose of distributing branded promotional products is to consistently put your brand in front of current or potential customers in a useful way. Because of that, it's imperative to get inside the mind of your customers to realize what they will actually use — and more importantly, what they will throw in the garbage the minute they have the chance.
In today's post, we will introduce five of the most effective promotional products you should be taking advantage of. From tried-and-true classics to more innovative products, eLead Promo is ready to help large businesses with all of their custom promotional products.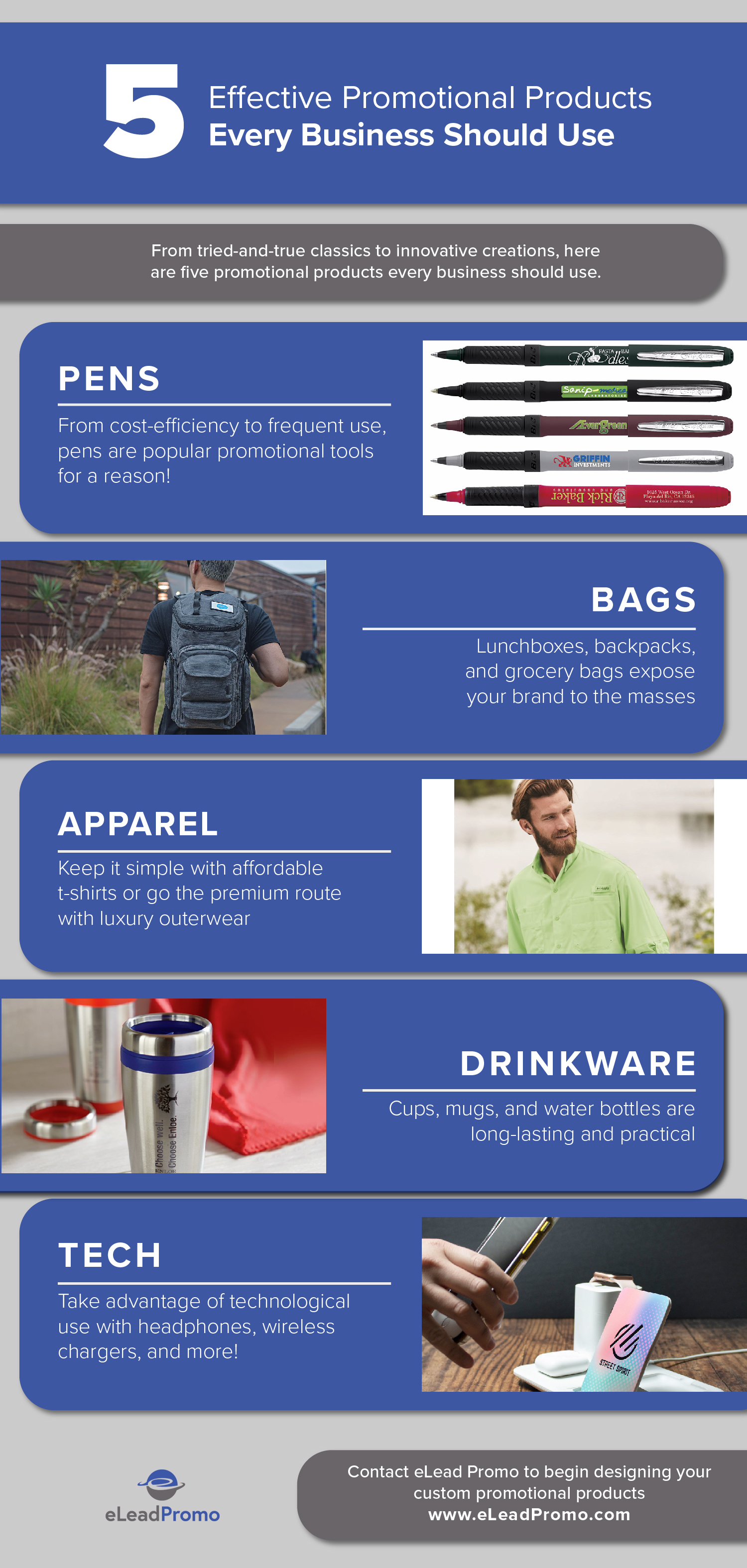 Pens
Really? Yes, really! We understand that pens can seem like a boring, old-school approach to branded promotional products. But, remember, there's often a reason things stick around for a while. As the world of marketing and promotional products advance, branded pens continue to be one of the most effective forms of promotional products, both in terms of brand exposure and cost.
Glance around your kitchen or office for a brief moment and we're willing to bet that most pens you have on hand are from a promotional giveaway. No matter how digital we become, people will always have use for a pen, and even if they might not realize it at the time, they will continue to come in contact with your brand every time they use the pen. What's more, branded pens are one of the most affordable promotional products available, with studies estimating that their cost per impression is less than 1/10 of a cent!
Bags
If you're looking for ways to expose your brand to large masses, bags are one of the best places to start. From backpacks to drawstring sacks, lunchboxes to reusable grocery bags, there are plenty of creative ways to incorporate bags into your custom promotional product plan. Not only are they practical in the sense that people often find themselves needing a bag to tote their items, they also have fantastic visibility since people carry them around in public. Promotional bags net roughly 6,000 impressions apiece, and we're ready to help you take advantage of that!
Apparel
Just like bags, company branded apparel indirectly allows you to expose your brand to thousands of people with one simple product. There are also options for custom company apparel that fit the budget and needs for any business. T-shirt giveaways are a wonderful, cost-effective way to keep your brand on the minds of thousands of people while premium outerwear apparel can show customers that you care about them, thus improving their loyalty to your brand.
Drinkware
You know those old plastic cups in your cupboard you just can't seem to get rid of? What about the water bottle or mug sitting on your desk at work? Branded drinkware is another relatively affordable type of promotional product that derives its main benefit from longevity. Pens run out of ink and t-shirts rip, but drinkware made from durable plastic can often last years. Not unlike apparel, there are many types of drinkware for multiple budgets and uses, ranging from simple cups to high-quality thermoses.
Tech
Now it's time to set your company and brand apart by going the extra mile. We're using technology as a broad term to cover most custom promotional products relating to technology. Lucky for you, there are hundreds of custom tech items we can help you design here at eLead Promo that are sure to leave a lasting impression on customers, including:
People constantly use their phones, so why not subtly remind them of your business every time they use it? Tech items prove that you are committed to helping your customers in practical ways.
At eLead Promo, we exist to help you elevate your brand through custom promotional products. We know the power that branding can have on clientele, and we are committed to helping you achieve your branding goals. If you're ready to partner with the leaders in brand development, contact our team today!