eLead Resources Inc
Welcome to eLeadPromo.com!
eLeadPromo is the nation's leading provider of managed promotional marketing products. Our goal is to help our customers achieve a new level of marketing effectiveness through promotional products. Promotional items display company logos, contact information, brand messages or any other significant information to help you reach your customer base and grow your business.
If you're interested in any of the items on this site, simply add them to your shopping cart. Once you have all the items that interest you in your cart, simply "Check-Out" and we'll contact you with pricing, color options, lead times, etc.
If you have any questions, please feel free to contact us. Thank you and enjoy!
Featured Item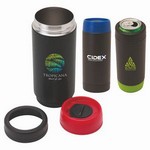 Frosty 18oz. Double Wall Steel Tumbler/C...
The Frosty is a double function, double wall 18oz stainless steel tumbler and can cooler. The tumbler lid features a spill-proof sliding closure and is ideal for hot or cold drinks. Swap the black can...
$12.99 - $14.49
Signature Showrooms